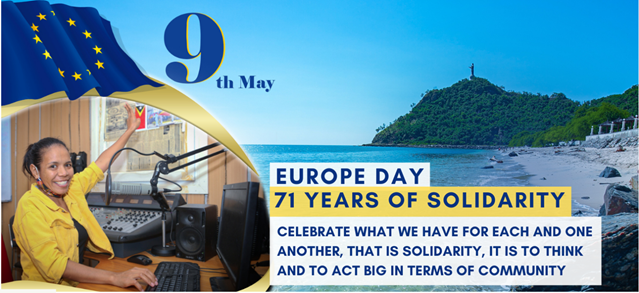 On this Europe Day, CEPAD would like to congratulate the European Union and its people across Europe and around the world. The 71th anniversary of the Schuman Declaration offers a chance to know more about the EU's role in Timor-Leste and in the world. We want to use this opportunity to do this from our organization perspective, to set out why EU as an idea and project is worth guarding.
As Robert Schuman put it in his Declaration "We need to think and act big". Yes, he was not thinking small, the project he launched has been spectacularly successful, growing from 6 members to 12, 15 to 28 today, from a coal and steel community to a common market. However we have to ascertain that everything Schuman believes in is not an empty word and that European Union is serious about a Europe that upholds Solidarity.
In general, EU is now mobilized on all fronts to strengthening solidarity and coordination. EU has been working together with Timorese people in our solidarity for each other, to build a common home of development and prosperity, with friendships and partnerships formed or renewed, support for equal opportunities, protect human rights and act for climate and a green Timor-Leste; and CEPAD feels privileged to work with the EU under the specific grant award, which is to ensure government accountability of covid-19 and improved freedom and access of information in Timor-Leste.
Selecting small local civil society organizations to work with has certainly made the people of Timor-Leste realize that the EU can indeed make a difference. How? By promoting their constitutional rights to know as they request information relating to health care including government response to COVID-19, and education. In so doing the EU lives up to the Schuman spirit and will to work together with all parties including small local organizations to strengthen the sense of community solidarity for a shared future. We are together in our shared feeling of concern for the sick and bereaved for families impacted by the floods; therefore to mark Europe Day CEPAD is able to continue its support to provide phone credits to 450 journalists in times of pandemic and together with Arcoiris Timor-Leste helped 100 LGBTQ families, pregnant women, widows and disabled persons.
To this end CEPAD believes that the EU contributions reflects and protect Schuman Declaration. Thus, we should carry forwards this fine tradition of solidarity and coordination to build a community of shared future featuring equality, mutual support and solidarity.
Obrigado EU.