Corruption, Collusion and Nepotism (KKN)
CEPAD works to help prevent corruption at two levels
Improving public knowledge on corruption through a permanent civic education campaign; and
Promote the adoption of national policies, legislation and public programmes that reflect consensus-oriented recommendations to corruption, collusion and nepotism, through inclusive and participatory countrywide consultations.

International Anti-Corruption Day
International Anti-Corruption Day has been observed annually, on 9 December, and this year CEPAD and members of GKN-AK including state anti-corruption institutions organized a public event on 30 November to mark International Anti-Corruption Day and raise public awareness about corruption. The event was also an opportunity for members of GKN-AK to promote the Anti-Corruption 5-Commandment which they had elaborated, and to also disseminate an Anti-Corruption message by HE President Francisco Guterres "Lú-Olo".
CEPAD launched a new Anti-Corruption Training Manual
On 26 October 2018, CEPAD launched a new Anti-Corruption Training Manual for public officials to help improve INTEGRITY in Public Sector. President of Timor-Leste, Francisco Guterres "Lú-Olo", inaugurated the event celebrating CEPAD's achievements and acknowledging the importance of fighting corruption in the country. The Anti-Corruption Training Manual was developed in consultation with members of CEPAD's National Advisory Group consisting of seven line ministries including key state anti-corruption institutions to help increase public servant's knowledge on the roles and responsibilities of state anti-corruption institutions and UNCAC Convention with practical guidelines for public servants to prevent and address corruption in the public sector.
Permanent civic education campaign
In collaboration with the Ministry of Education CEPAD introduced KKN issues in classrooms through its illustrated story book 'Baino and Binoi, which was integrated as a reference book for grades 5 and 6 in primary schools in 2014. In 2015 the story book was officially launched across Timor-Leste's 13 Municipalities, involving 86 central schools, 216 teachers and CEPAD focal points, and 3,220 grade 5 and 6 students.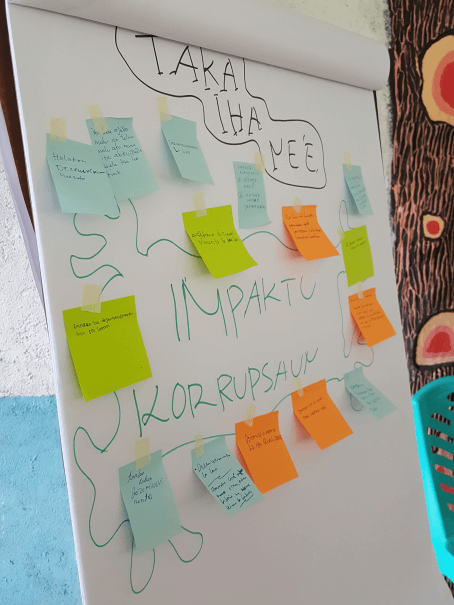 "Bano no Binoi" story book distribution

This story book complements CEPAD's full KKN package, consisting of an anti-corruption action manual, a KKN Film based on Baino no Binoi story book, short anti-corruption films, a CD of anti-corruption songs, radio interviews, TV debates, booklets, training manuals and more. Through the distribution of these materials to all municipalities, along with 42 focus group discussions targeting 10,494 community members, CEPAD has faced different challenges and has identified opportunities to further grow its KKN program.
A program participant in Lautem Municipality said: "I want to take home the story book, DVDs and anti-corruption songs, because I myself want to study these materials. I would like to volunteer my time to share this information to my family and friends so that they are also informed about what corruption, collusion and nepotism are. For that reason, I am very happy to attend this FGD."
Adoption of national policies, legislation and public programmes to address KKN
United under the Group promoting change (GPC), key policy and public opinion makers have influenced major institutions and brought about change. The GPC, an advocacy coalition of 26 members facilitated the connection between research, policy recommendations and their practical implementation.
The GPC an action-oriented entity mandated, first and foremost, to analyse the feasibility of the recommendations elaborated by CEPAD in 2011-2012 and to adjust them in order to facilitate their implementation. Part of its mandate also involved managing the political space within which the recommendations were presented to key decision-makers in order to ensure multi-partisan political support and long-term commitment to their implementation.
Project partners and associates
CEPAD's KKN program is made possible through a multiyear partnership with MISEREOR, and in close collaboration with Interpeace. Throughout implementation process CEPAD has also worked closely with key state anti-corruption institutions namely commission anti-corruption (CAC), Public General Prosecutor (PJR), Ombudsman for Human Rights and Justice (PDHJ) and the Global Organisation of Parliamentarians against Corruption Timor-Leste chapter (GOPAC-TL), including other state institutions and line ministries like Commission Public Function (CFP), National Institution of Public Administration (INAP), State General Inspector (IJE), Ministries of Social Solidarity and Inclusion (MSSI), Ministries of Agriculture and Fisheries (MAP), Ministries of Health (MS), Ministries of Education (ME), Ministries of Public Works (MOP), Ministries of Finances (MF), and Ministries of State Procurement and Land use planning (MAEOT). CEPAD has also engaged media including Radio Metro FM, National Media Group (GMN-TV), Television of Education Timor-Leste (TVET), Radio and Television of Timor-Leste (RTTL) , Guardamor TV and Radio (GR-TV), Maubere TV and Radio (RTM) and community radio stations countrywide actively in airing and reporting on program activities.
Reports
KKN Booklet publisher Oct 04 2016